Publications List
Showing 1 to 2 of 2 results in 1 pages.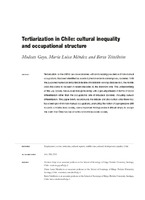 August 2016
|
Tertiarization, or the shift to service economies with an increasing prevalence of non-manual occupations, has been identified as a central...
August 2016
|
In this article, we examine the hypothesis that the policy of parental school choice in Chile has increased socioeconomic school segregation. We...