Publications List
Showing 1 to 2 of 2 results in 1 pages.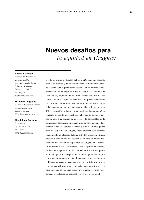 December 2000
|
Desde las primeras décadas del siglo XX Uruguay presentó
niveles de equidad y de desarrollo de sus instituciones de bienestar
social...
May 2000
|
Segunda conferencia regional de seguimiento de la Cumbre Mundial sobre Desarrollo Social. Santiago de Chile, 15 al 17 de mayo de 2000 Resumen Las...