Publications List
Showing 1 to 2 of 2 results in 1 pages.
August 2005
|
Up to 1989, social policy in Cuba achieved very notable advances
in education, health, social security, employment and income
...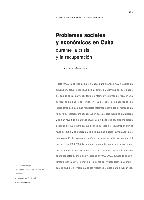 August 2005
|
Hasta 1989, la política social en Cuba logró avances muy notables en educación, salud, seguridad social, empleo y distribución. El colapso del...